GWR Route: Banbury to Wolverhampton
Harbury Cutting and Tunnel: gwrhc1486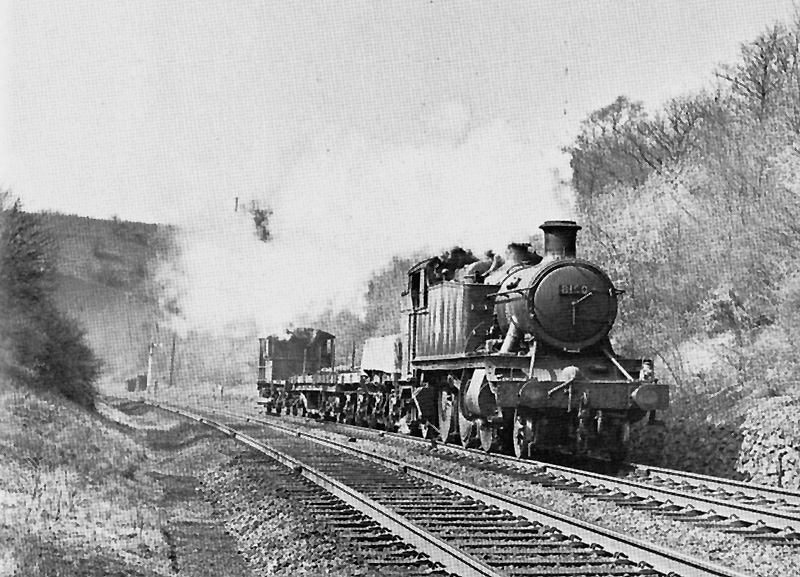 Ex-Great Western No 8100, a large 2-6-2T prairie tank engine in unlined black British Railways livery travelling south away from Harbury tunnel. The train's headcode indicates that this is a Class K train (freight, mineral or ballast train stopping at intermediate stations or in-section) and the assortment of wagons confirm that this is a local pick-up freight from Leamington. This engine was Churchward's original prototype locomotive for a large banking engine design and was built at Swindon in September 1903 as No 99 (Lot 140, Works No 1992). After a thorough trail, another thirty nine engines (Nos 3111 to 3149) were built in 1905 and 1906. No 99 was slightly different having a short-cone (D2) boiler and straight topped side tanks. One other noticeable difference was that the cab sides were not flush with the tanks but set slightly inwards. By 1909, it was found that several of the class were suffering from stress problems at the front of the frame and to provide extra support, struts were fitted between the smokebox and buffer beam.
The boiler of No 99 was changed to a long-cone type in October 1910 and fitted with a 12/72 superheater in September 1912. In December of that year No 99 was renumbered No 3100. In 1919 the boiler pressure of the entire 31XX Class was increased to a standard 200lb, resulting in the tractive effort increasing from 23,690lb to 24,300lb. Over the next three years these engines also had their coal bunkers extended to provide capacity for an additional 18 cwt of coal. Between 1927 and 1930 the whole class was rebuilt to give a better weight distribution and reduce the maximum axle weight to under 17 tons 12 cwt, which enabled the engines to be used on Blue routes and thus increased their range of operation and the work that they could carry out .
On completion of the rebuild the engines were renumbered and became part of the 51XX Class. No 3100 therefore became No 5100 in April 1929, after the rebuild which also saw the non-standard side tanks altered to the sloping pattern. Automatic train control (ATC) was fitted to the whole class between July 1930 and August 1931 and after this change the engines were mainly allocated to Wolverhampton and Birmingham Suburban Passenger Services. In 1934 No 5100 was known to be allocated to Tyseley Shed. In May 1938 No 5100 was withdrawn and the frames and other serviceable parts used to build No.8100. This locomotive had a even higher pressure (225lb) boiler fitted and slightly smaller wheels. These changes improved acceleration for suburban duties. Under Lot 320, it was intended to convert the whole class, but only ten of the 51XX Class were altered at Swindon between March 1938 and November 1939 (when the war intervened and the programme was suspended). When new No 8100 was known to have been allocated to Leamington shed and was also there in December 1947. Smokebox number plates were fitted to the 81XX Class sometime between November 1948 and August 1952. No 8100 was fially withdrawn in October 1962.
Robert Ferris

back