GWR Route: Banbury to Wolverhampton
Hockley Station: gwrhd711b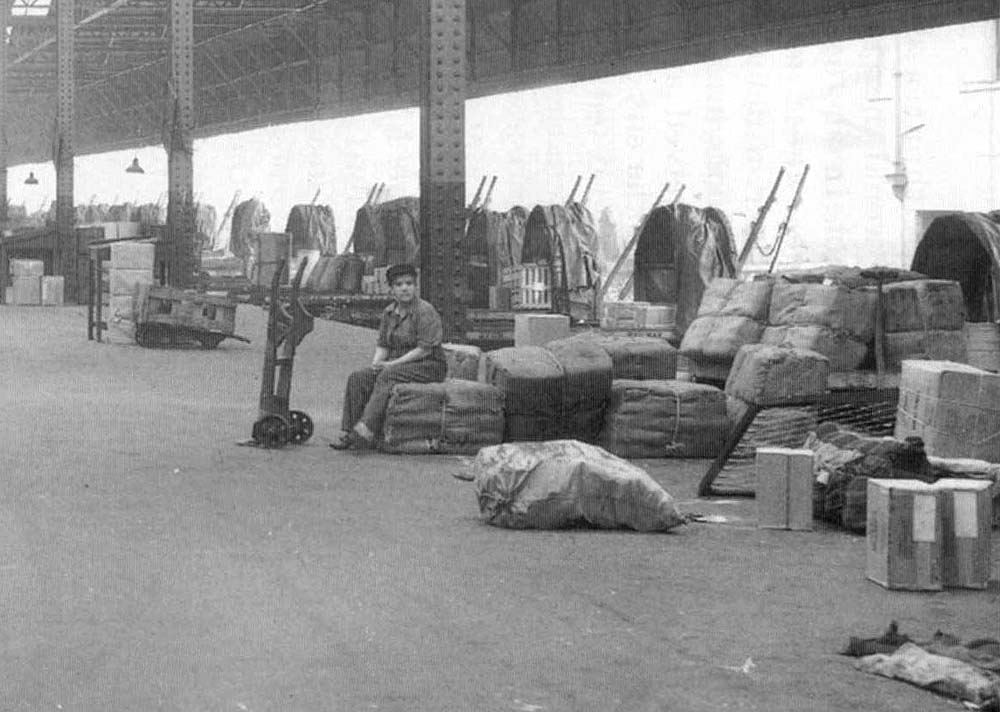 Close up of image 'gwrhd711' showing Top shed's cartage area with rows of horse-drawn vehicles and a young female porter at rest. The Second World War saw significant numbers of women take over extremely onerous and physical jobs from men of which being a porter was one. This wasn't new as during the First World War when almost one-third of male railway workers joined the Forces, leaving the industry in a terrible crisis, jobs that had always been rigidly closed to women were suddenly opened to them and there was a stampede for jobs. Railwaymen did not disguise their opposition to women. Their union leaders grudgingly accepted that women were needed to keep the railways running but insisted they be ousted when war ended. The proportion of female staff increased from 2% to 16% in four years. By 1918 there were almost 66,000 female railway employees, of which about half were in uniformed, manual work never before performed by women. 10,000 became ticket collectors, luggage porters, parcels porters and goods porters, handling heavy goods such as sacks of coal or flour, animals and milk churns. They worked on stations, sometimes being the only woman amongst a group of men. At other locations the stationmaster was the only man among a staff of twelve.
At the outbreak of the Second World War over half a million men and 25,000 women worked on the railways. Of the women, about 11,000 were in offices, 7,000 in hotels and catering and 7,000 in female manual work (i.e. cleaning). Thousands of railwaymen joined the Forces in 1939 and women were—once again (and rather miraculously)—deemed to be capable of men's work. In addition to filling all the posts women had filled in the First World War, their range of tasks broadened. This time they were employed on track work, as electricians' and engineers' assistants, jointing cables, and repairing and oiling semaphore signals and associated wiring, oiling points, packing ballast and tightening the bolts which hold the rails onto the sleepers. They became fog signallers, standing alone at an isolated signal-post for hours on end in freezing fog, laying detonators on the line. They were pilotwomen, travelling on engines along single lines; they became porter-shunters, who climbed down on the track between engines and carriages and uncoupled and coupled them.
Despite bitter opposition from men, many more were employed as guards; for the first time, they were put in charge of trains along the South Coast, the Midlands and London which, while all railways were a prime military target, suffered from particularly heavy bombing. Many more became signalwomen, and they were permitted to move up a rank or two and control the more complicated signalboxes, previously thought beyond their mental and physical capabilities. Women's tasks in the workshops were also greatly expanded. They operated power lathes and drop-stamp hammers, and were trained as electricians. They climbed inside the workings of escalators to repair and maintain them. From 1941 women were conscripted and could be made to perform railway work. After the war, most women were forced to leave any uniformed job to make way for a man. A handful managed to keep their jobs, most usually on a rural station or isolated signalbox that no man applied to work at. Some managers were apt to take a laissez-faire attitude to an individual woman, perhaps a war widow with dependents, who was obviously competent at her job, but union officials sometimes complained until the woman was dismissed and replaced by a man (even one with no railway experience).

back