GWR Route: Banbury to Wolverhampton
Solihull Station: gwrs2626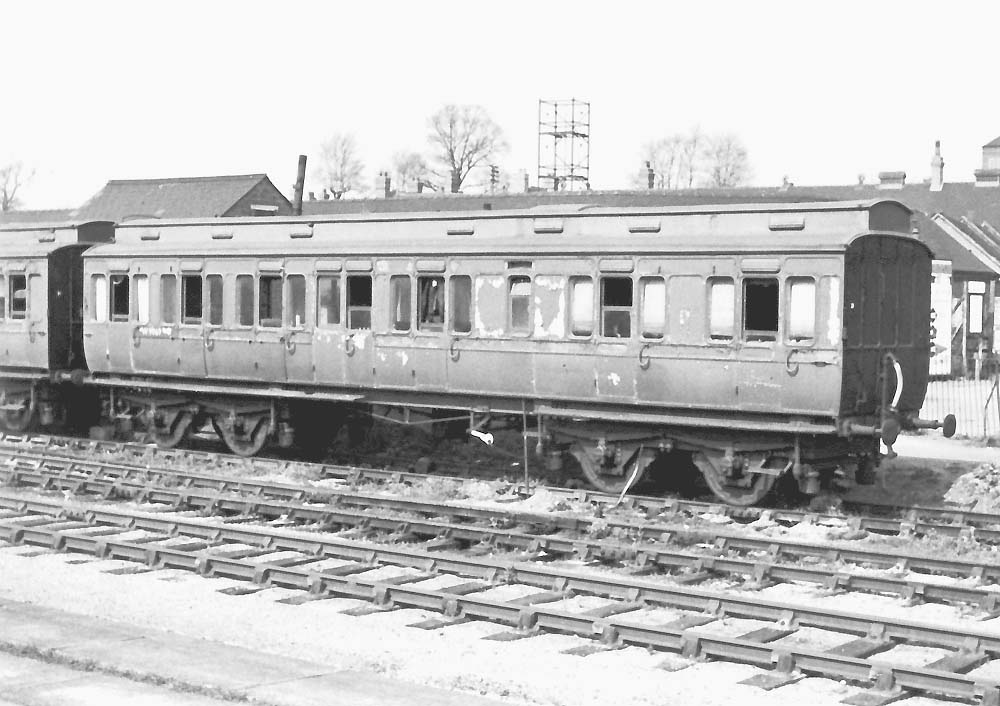 Ex-Great Western Railway Camping Coach No W9969 in the up sidings at Solihull Station on Saturday 19th April 1952. This 46 foot, 6 inch long clerestory composite coach was built at Swindon to diagram E17 in August 1888 as part of lot 411 and numbered No 858. The coach had three first class compartments (two with lavatories), three second class compartments and a central luggage area. Due to a lack of broad gauge carriage stock it was modified to run on broad gauge bogies in March 1889 and renumbered No 578, but three years later, in June 1892, it was restored to its original condition and once again became No 858. In 1907 the Great Western Railway renumbered its coaches giving each a prefix indicating the type and as a composite coach it became No 6858. Originally provided with oil lighting, this was replaced; first with flat flame gas burners and then incandescent gas lighting in May 1909. By this time steam heating had also been provided and an internal reorganisation of the lavatories resulted in a diagram change (E18). The coach was withdrawn from revenue earning passenger traffic and officially condemned January 1935.
In April 1935, the condemned coach was converted at Swindon into a type C (eight berth) Camp Coach and became No 9969. This was one of fourteen new type C Camp Coaches in 1935, which included six converts from condemned E17 coaches. All had a similar internal arrangement; one of the lavatories was retained as a cloak room, with access from the central communal area, adjacent to this area was the kitchen with cupboards, sink, stove and oven, while at the coach ends were three bedrooms (one with bunkbeds). The layout allowed all the rooms to be accessed without leaving the coach, with external doors being provided only from the communal area and kitchen. In the 1930s the cost of hiring a type C Camp Coach was £4 per week, plus an obligation to purchase eight rail tickets. The location of Camp Coach No 9969 in the 1935 and 1936 holiday seasons is not known, but during 1937 it was the first Camp Coach to be located at Marazion near Penzance in Cornwall.
With the start of the Second World War, coach No 9969 was recorded as being in military use by 15th January 1940, but on 5th April 1941 was stationed at Shiplake Station on the Henley-on-Thames branch line, where it was placed at the disposal of Sir Charles Hambro (the Chairman of the Great Western Railway). On 28th October 1942 the coach was sent to Swindon to be fitted-out for the Signal & Telegraph Department and after the war the coach was retained by the Department. The coach was known to be at Radyr in September 1949, where the stove was renewed. The W prefix to the number was added by British Railway and coach No W9969 was finally condemned in May 1956.
This photograph is displayed courtesy of the HMRS (Historical Model Railway Society) and copies can be ordered directly from them using the link HERE, quoting reference ABW609.
Robert Ferris

back