GWR Route: Banbury to Wolverhampton
Solihull Station: gwrs2630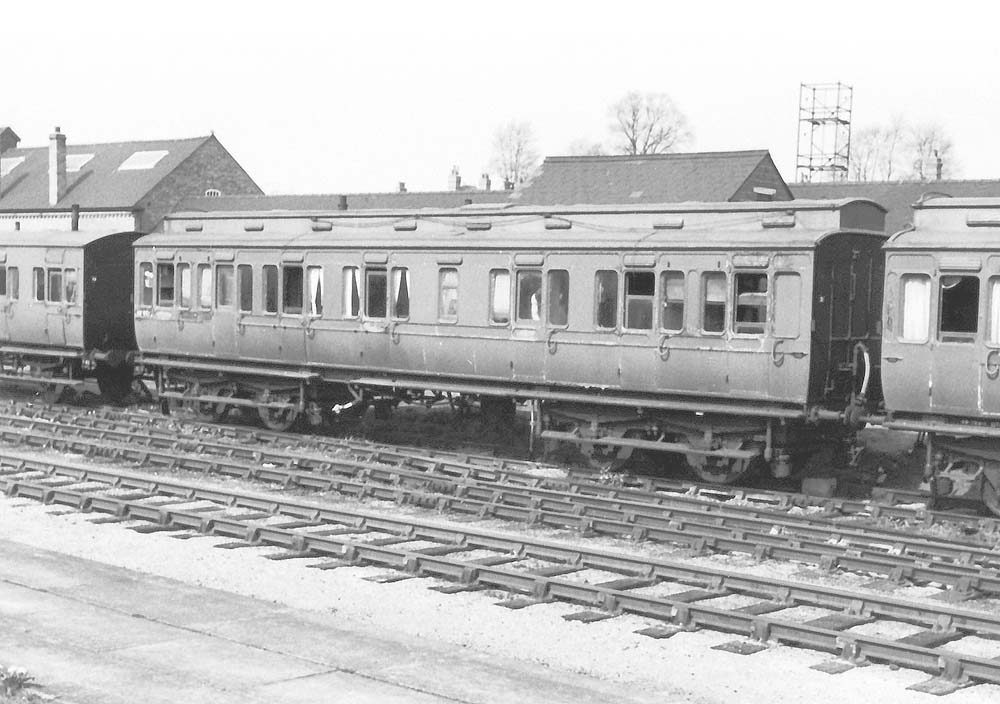 Ex-Great Western Railway Camping Coach No W9972 in the up sidings at Solihull Station on Saturday 19th April 1952. This 46 foot, 6 inch long clerestory tri-composite coach was built at Swindon to diagram E27 in May 1890 as one of six coaches constructed under lot 544 and was numbered No 581 (a further five diagram E27 coaches were constructed under lot 470). The diagram E27 coach had three third class, two second class and two first class compartments. There was no corridor but in the centre of the coach were two lavatories each with access to one of the adjacent first class compartments. They were constructed as convertible coaches with an eight foot wide carriage body on broad gauge bogies and with the end of the broad gauge in sight, narrow gauge bogies were substituted on No 581 in May 1892 and the coach renumbered No 1050. In 1907 the Great Western Railway renumbered its coaching stock giving each coach a four digit number with the first figure indicating the type and as a composite, this coach became No 7050. These diagram E27 coaches were originally fitted with lighting from flat flame gas burners, but incandescent gas lighting was installed in July 1908. The coach was withdrawn from revenue earning passenger traffic and officially condemned in January 1935.
In June 1935, the condemned coach was converted to a type C (eight berth) Camp Coach and became No 9972. This was one of fourteen new type C Camp Coaches in 1935, which included five converts from condemned diagram E27 coaches - The others were Nos; 9971 (ex 7046), 9973 (ex 7052), 9974 (ex 7054) and 9975 (ex 7055). All were given a similar internal arrangement; one of the lavatories was retained as a cloak room, with access from the central communal area, adjacent to this area was the kitchen with cupboards, sink, stove and oven, while at the coach ends were three bedrooms (one with bunkbeds). The layout allowed all the rooms to be accessed without leaving the coach, with external doors being provided only from the communal area and kitchen. In the 1930s the cost of hiring a type C Camp Coach was £4 per week, plus an obligation to purchase eight rail tickets. The seasonal holiday locations of Camp Coach No 9972 are not known, but Camp coach holidays ceased in 1940 following the start of the Second World War in the previous year.
Camp Coaches were in demand as temporary accommodation by the Government and Military, as well as the Railway Company. Several were used by the Signal & Telegraph Department as emergency wireless vans with one modified Camp Coach being allocated to each Division in case critical telecommunication locations were damaged by bombing. These emergency wireless vans were equipped with Marconi trans-receivers and a portable aerial mast. No 9972 was known to be with the Signal & Telegraph Department at Cheltenham on 15th July 1942 and after the war the coach was retained by the Department. The coach was known to be at Radyr in September 1949. The W prefix to the number was added by British Railway and coach No W9969 was finally condemned in May 1956.
This photograph is displayed courtesy of the HMRS (Historical Model Railway Society) and copies can be ordered directly from them using the link HERE, quoting reference ABW610.
Robert Ferris

back