LMS Route: Evesham to Birmingham
GWR Route: North Warwickshire Line
GWR Route: Banbury to Wolverhampton
Birmingham New Street - Southern Approaches: lnwrbhm_sa1890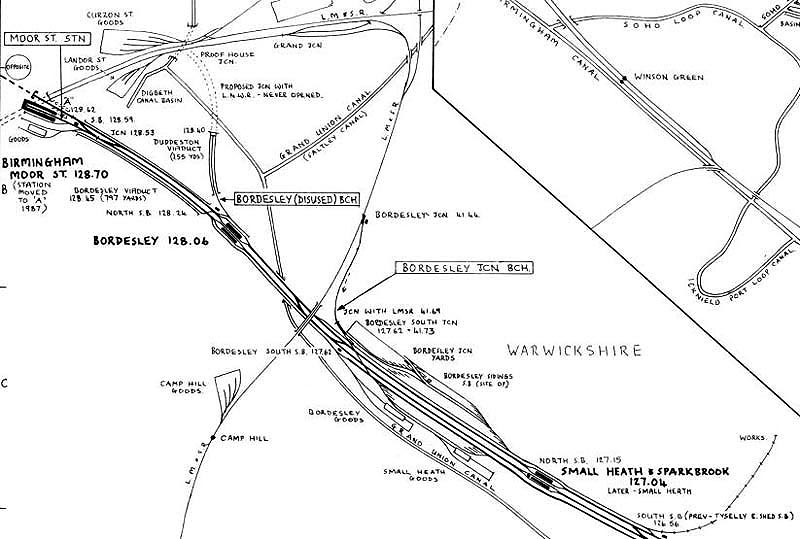 Map showing the junction between the Midland and the Great Western at Bordesley and the line from Gloucester as it curves to joint the LNWR line to New Street. The map shows in dotted lines at the top and to the left of the image, the alignment of Bordesley viaduct which was built by the GWR in 1850 to form the proposed junction with the former Grand Junction Railway (GJR), later LNWR, Curzon Street station. This proposed junction was initiated when the GWR was looking to expand to the North-east and promoted a broad gauge line from Oxford to Rugby, where it intended to link to the Midland Counties Railway. The parliamentary bills authorising construction of these two lines were hotly contested (particularly by supporters of the L&BR, but also by others who feared the extension of the broad gauge may jeopardise their railway investments). The one narrow gauge railway which supported these two new broad gauge lines was the GJR, who wrote to their shareholders explaining that "the directors have ascertained the perfect practicality of adding the Broad Gauge on the Grand Junction at a very reasonable cost". Both new broad gauge lines received their Royal Ascent on 4th August 1845, although a provision was included that narrow gauge rails must also be laid down on certain sections if required by the Board of Trade.
Whereas the GWR's proposed two new broad gauge lines from Oxford to Worcester & Wolverhampton, and Oxford to Rugby served very little of Warwickshire, the GJR now suggested that a branch line from their Curzon Street terminus in Birmingham to Fenny Compton on the Oxford & Rugby Railway should also be built. This would provide another possible route to London in addition to that via their proposed connection with the OWW at Wolverhampton. When in the following year the GJR and L&BR patched up their differences and amalgamated to form the LNWR, the Great Western Railway continued to promote this branch and in the absence of the broad gauge rails on the GJR, to extend it further to join the OWW near Wolverhampton. The three bills for this broad gauge line received Royal Ascent together on 3rd August 1846. They were the Birmingham & Oxford Junction Railway, Birmingham Extension Railway and Birmingham, Wolverhampton & Dudley Railway.
Therefore whilst the authorised route of the Birmingham & Oxford Junction Railway was to the old GJR terminus at Curzon Street this connection was no longer required, but the LNWR forced the GWR to abide by the relevant Act authorising the line and erect the brick arched viaduct for the line knowing it would never be used. Today, sections of the unused Duddeston viaduct still straddle Bordesley as a reminder of the changing allegiances and rivalries between the original Railway Companies (see 'gwrbg671').

back